TTX will equip 1,700 freight cars this year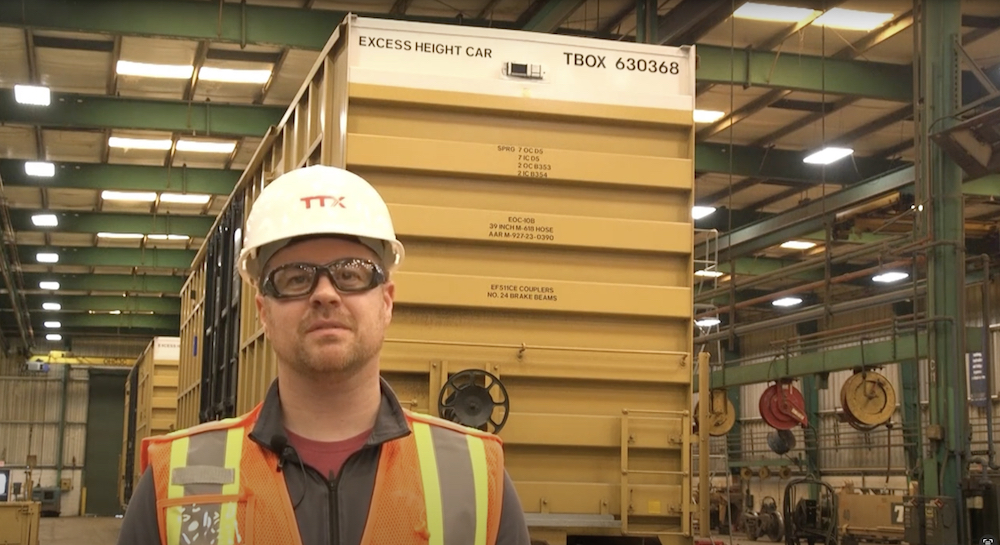 Erik Gotlund, director of research and product development at TTX, explains the company's telematics program. The GPS locator is mounted at the top center of the freight car near the superelevated car warning. Screenshot of TTX video
CHICAGO — TTX is beginning to add GPS-based telematics to its railcar and autorack fleets, allowing railroads and trucking companies to monitor real-time auto location and status.
The ride-sharing company, owned by Class I Railroads, plans to outfit 1,700 new and existing boxcars and "hundreds" of car racks by the end of the year.
The auto-tracing information will complement AEI-based tracking, which uses roadside readers to report car location, TTX says in a YouTube video released last week.
The battery-powered GPS device reports its location every five minutes via the mobile network. The system also reports when cars start or stop.
One thousand cars will also be fitted with sensors that monitor impact, door position, empty/load status and handbrake position.
TTX is working with the Association of American Railroads to develop protocols for alerts and additional telematics capabilities.
RailPulse, a joint venture of boxcar owners, is conducting similar tests on 1,000 cars to allow shippers to monitor boxcars across North America. RailPulse members in Norfolk Southern, Union Pacific, Genesee & Wyoming, Railroad Development Corp., Watco, GATX, Greenbrier and Trinity Rail.